Like other stimulants, caffeine can help improve creativity and productivity, up to a point. But there are health risks, including anxiety.
The illusion of productivity
"I used to drink several cups of coffee a day, but I kicked the habit a long time ago because I found that caffeine made me too jittery and unfocused."
That is a quote by Steve Pavlina, author of one of the most popular, and financially successful, sites and blogs dedicated to personal development, StevePavlina.com – and author of the book Personal Development for Smart People: The Conscious Pursuit of Personal Growth.
He notes on his site, "When I drink coffee, my activity level soars — I barrel through tasks in rapid succession.
"But at the end of the day, I have to admit I didn't accomplish anything of major value.
"Caffeine causes me to overload on busywork like email, web surfing, socializing, and other unproductive tasks."
Health risks from caffeine
Deanne Repich, founder of the National Institute of Anxiety and Stress, writes in her article The Dangers of Caffeine for Anxiety Sufferers that over forty research studies "have shown that excessive caffeine can be harmful to your health," and can cause "Rapid or irregular heartbeat; Restlessness; Nervousness; Insomnia" and other symptoms related to "fight or flight" reactions, which are "designed to protect you from harm.
"Excessive amounts of caffeine can trigger the body's fight or flight response even though no real danger exists."
Those body reactions can also stimulate or increase anxiety.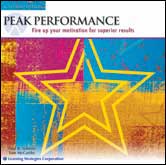 Paraliminal CDs
Pavlina writes that he "missed the action boost that caffeine gave me" but has found that Paraliminal CDs by Learning Strategies Corporation "have done a beautiful job of filling this void. After every session I enjoy a lingering aftereffect that usually lasts a couple hours.
"The Paraliminals provide a noticeable concentration boost that allows me to steadily flow through my work while still maintaining my priorities — that delightful state of flow.
"For me this effect translates directly into practical, down-to-earth results. During a period of a few weeks when I used Paraliminals once or twice a day, I completed several key projects that required a lot of focus and concentration, definitely much faster and at a higher level of quality than I would have otherwise."
The image is for one of several Paraliminal programs: Peak Performance.
Paraliminal programs make use of Holosync audio technology by Centerpointe Research Institute. Visit the site to get a free demo CD.
Also see articles by Bill Harris, the Centerpointe director, about the technology.
~~~~~~~
~~~~~~~~~
Note - Links to programs and products may be affiliate links, which means the company may provide me a small commission - paid for by them, at no cost to you - if you decide to purchase. This helps support the free content I provide here and on my other sites, and help pay for site costs, such as hosting.