Published 06/3/2008



Taken from the age old wisdom of those who relied on nature to cure all woes, certain herbal and homeopathic remedies have been shown to significantly reduce the symptoms of depression without the unwanted side-effects.


Published 06/2/2008



Natural remedies for bipolar disorder should feature calming herbs which are generally safe to use along with psychiatric drugs. Biochemic Tissue Salts can also be used since they have a calming and restorative effect on the nervous system and help to balance mood and prevent mood swings. Homeopathic remedies can also be very helpful.

Clinical research suggests that 60 percent of depression sufferers concurrently experience some kind of anxiety disorder. This book, the first written to general readers about this condition, uses the powerful techniques of dialectical behavior therapy, or DBT, to help readers control both conditions.
There are natural antidepressant therapies which can restore emotional health, from vitamins and dietary adjustments to visualization exercises and sleep therapy. Baumel tells how to assess the pros and cons of these various therapies and how to apply them to personal issues in this strong self-help guide.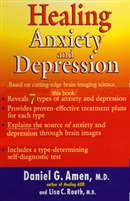 For the 38 million Americans who suffer from anxiety and/or depression (and for those who treat them), Dr. Daniel G. Amen has liberating news. This groundbreaking work describes the seven distinct types of anxiety and depression revealed by The Amen Clinics' signature brain-imaging studies; offers diagnostic tools and guidelines to determine the specific type affecting each individual, and provides a comprehensive program for treating each type.
"Depression left me searching desperately for ways to help myself, calm my anxiety and regain my lost self-esteem. This workbook was a constant companion during the months of recovery, as it empowered me to actively participate in the process, rather than wait passively for my next therapy session with expectations that the doctor alone would 'fix' me up. This workbook served me well as a problem solving tool. I literally didn't leave home without it." -- Suzanne S., client.

Book: Many creative people experience depression, because they are regularly confronted by doubts about the meaningfulness of their efforts. Theirs is a kind of depression that may need more than pharmaceutical treatment. Eric Maisel teaches creative people how to handle these recurrent crises of meaning and how to successfully manage the anxieties of the creative process.
A successful magazine editor and prize-winning journalist, Sally Brampton launched Elle magazine in the UK in 1985. But behind the successful, glamorous career was her ongoing struggle with severe depression and alcoholism. She offers readers a unique perspective of depression from the inside that is at times wrenching, but ultimately inspirational, as it charts her own coming back to life.